Teachers and children spend many hours in school trying to concentrate and learn. Often this takes place with noise in classrooms – in small classrooms, noisy halls and old school buildings which were built before anyone was paying attention to noise reducing materials and a good sound environment.
School teachers and child care workers are among the professions that are most disturbed by noise at work, according to a  Danish study from the National Research Centre for the Working Environment (only in Danish)
It is important to know which possibilities there are to improve the situation, both in terms of creating a good learning environment for the children and in terms of preventing stress and tinnitus for teachers. It does not necessarily have to be an expensive solution, but a lot of cheap alternatives can make a difference too.
1) Sound reducing paintings?
Schools are rarely built by acousticians and thirty years ago, the focus was not always on creating good sound in public buildings. These years, a range of noise reduction products is available both when building or renovating schools. However, even easily accessible solutions like sound absorbing paintings, furniture and elements in the ceiling can help to lower the volume in the classroom.
2) Tight budget in the school? – Go green
Many schools have a tight budget and classroom renovation is not an option. In this case, try putting up extra notice boards to reduce noise. You can even place nice plants in the room and benefit from the sound absorption.
3) Imagine 25 kids in a small classroom on Friday afternoon – create awareness
Imagine that. No matter how good the acoustics are, there will always be sounds and noises in class especially if you place 25 kids in a small classroom on Friday afternoon. How to control it? One way is to make children aware of how their surroundings affect their concentration and learning environment. The more awareness, the better chance there is for the teacher to make a change.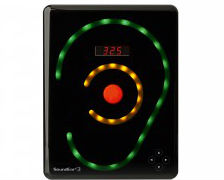 4) Use visual tools to "see" the noise
Noise can be an abstract phenomenon, especially for kids. Often children are not aware of high sound levels. SoundEar has sound monitoring equipment which in a very visible way shows when the noise level is too high. This helps both teachers and kids to self-regulate the noise level in class.
Go to the noise meter for class room >>>
Make noise a subject of the week, and give the children the task of keeping an eye on the noise levels. This creates awareness, and you can afterwards collect data from SoundEar and see which initiatives improved the noise level in class over time.
Where to start?
Most teachers know in which parts of the school there is a noise-related problem, but do the teachers and board agree, and how long do teachers and children have to live with it before a solution is found? Start out by finding out all the areas and classes where teachers have experienced high noise levels. This can be supported by real data about the noise levels in class. You are welcome to contact SoundEar, who can give you advice on how you should proceed.
4 tips and tricks for a quiet classroom – do you have a 5th?
Have you experienced or worked with initiatives helping reduce the noise level in classrooms?